"Let's face it right away: Chiara Fera's book, dedicated to the investigation that Pietro Citati conducted on the novel over the course of his long career, is a very well done book. Read it, because it will enlighten you with intelligent observations on the books of the greatest Italian literary critic ».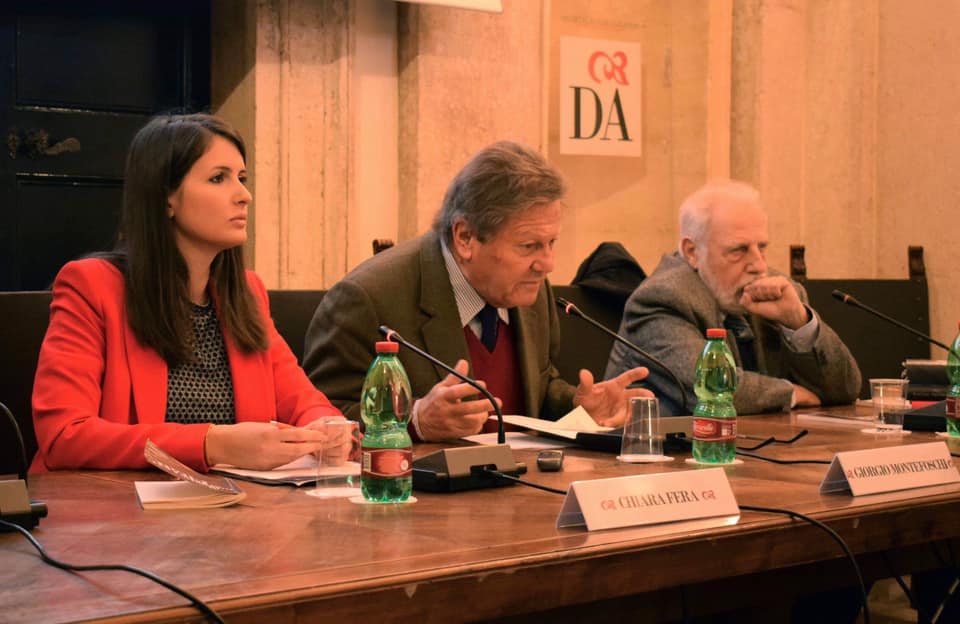 This is what two of the most eminent Italian literary critics have said, Giorgio Montefoschi (writer of the Strega Prize) and Piero Boitani (literary director of the Lorenzo Valla Foundation and former professor of Comparative Literature at the La Sapienza University of Rome and of Italian Language and Literature at the 'University of Cambridge), presenting "The invisible book by Pietro Citati - Tale of an analysis" (Rubbettino Editore) by the journalist Chiara Fera in the Primaticcio Gallery of Palazzo Firenze in Rome, headquarters of the Dante Alighieri Society.  Pietro Citati was unable to attend the meeting for health reasons and sent a message: "Chiara Fera writes very well, in particular I appreciated the second part of her book, the one in which she demonstrates the existence of a monograph on Dostoevsky written in the newspapers ».
«I must be honest - added Montefoschi - I do not envy the interviews that Chiara Fera had with Pietro Citati. As many know, Citati is not an easy person and the fact that she was able to cross the bunker and show up at home and keep him busy is something that made my veins and wrists tremble, because I, who have known him for more than half a century, know that if he says no it is no. If you said yes there must have been a good reason and the good reason, I think, is that you have understood that this young scholar is one who understands books and literature. " And again: "The book is interesting because Chiara read all the articles and essays by Pietro Citati and starting from them she built a personal journey, focusing on the things that can strike and attract more, sometimes even in a provocative way regarding judgments on writers and books of various eras ».
In fact, to write her essay, the author went several times to meet him in his Roman home and studied and analyzed half a century of journalism on the cultural pages of "Corriere della Sera" and "la Repubblica" in which Citati cultivates a very personal story of world literature. From the Italian authors, of which you were a colleague and friend, to the tangle of human destinies that is the nineteenth-century novel; From the irrational disharmonies that tormented the twentieth century to the desolation into which contemporary literature has fallen. An analysis that becomes a story, to the point that it seems impossible to distinguish the critic Citati from the narrator Citati. Thus a hybrid is born: in his articles, author and work are the protagonist and plot of an exciting critical novel. Like the one on Fyodor Dostoevsky: an invisible book written in newspapers, for ordinary readers, winning the arduous challenge against the anachronistic elitism of part of academic criticism, and emerging from the unstoppable chaos of cultural journalism with a tragic, brilliant, sublime monograph.
Piero Boitani commented: «Compared to traditional literary criticism, not only Italian but also European and American, Citati is shocking. He does not have a method: he is not a structuralist, he is not a semiologist, he is none of that ; Citati is an incredible immense reader. He reads all the works of an author, in order to identify with him, and reads everything that has been written about that author. He did it with Dostoevsky, of whom he read an endless bibliography, but he did not then take the final step, namely the creation of a monograph. I must say that at first I was slightly disturbed to see that Chiara Fera was talking about an invisible book. Like an invisible book? Citati has written so many books, all of which are highly visible ».
Chiara Fera described the discovery of this invisible book as follows: "During one of the interviews, I asked him a question whose answer revealed Citati to me in all his humility, a humility that can only be found in the greatest scholars. As everyone knows,  Citati not only writes articles but is also the author of passionate monographs on giants of literature, such as Kafka, Proust, Tolstoy, Fitzgerald, Leopardi. But, he never wrote a book about Dostoevsky, although he said of him "he is not a writer but an entire region of literature, in which the immense body of the novel lies". So I asked him "why not a book on Dostoevsky?" He replied: "I have never dared to write it, it is too difficult". For me it was the consecration of a myth. I did some research in the archives of "Corriere della Sera" and "la Repubblica" and I discovered so many articles by Citati about the Russian writer that a book came out of it: between the economic page and the sports page there was a dissertation on the Napoleonic ideas of Raskolnikov or on Stavrogin's nihilism. An incredible cultural operation ".
On the human relationships that Citati has woven over the years with many writers of the twentieth century, some of whom emerge from the work of the Fera, Montefoschi added: "Another element that interests me and that was highlighted by Chiara's book is the relevance of the link between literature and the world, therefore between literature and experience ». The author in this regard: "The greatest merit of Pietro Citati is that he was able to demonstrate or, to use a more exact term, remember that literature is the closest thing to man that can exist. Literature is inextricably human, it cannot be dusty with academic technicalities, it cannot hole up in universities. Knowing the rhetorical figures, literary genres, critical currents is certainly important but it makes no sense if first of all you are not curious about the human message that every writer wants to convey. Citati was the most skilled in bringing literature back to where it was born, that is, among the people. He made it clear to the most disparate men, of any professional profile and any social class, that literature is their business, he talks about them, it comes from them. Writing in the newspapers, with compelling tones, of life, death, destiny, religion, passion, he has accomplished the most extraordinary of miracles: to bring men closer to the beauty of the words that tell of their own life ».